Product Description
Camlock fitting, also referred to as camlock coupling, is a type of hose coupling to connect two hoses or pipes together without any tools. They are commonly used in a broad range of industries to transfer fluids, powders, or pellets, especially in low-pressure fluid handling applications. Camlock couplings contain a male and female end as well as arms to help lock the ends together when connected. The purpose of the safety pins is to keep the cam arms from unintentional disconnection while in use. Camlock couplings are primarily made of different materials including stainless steel, brass, or aluminum.
Type of Camlock: A, B, C, D, DC, DP, E, F
Size: From 1/2" to 10"
Body Material: Stainless Steel, Aluminum, Brass
Cam Arm Material: Stainless Steel or Brass
Gaskets Material: NBR, EPDM, Viton, PTFE
Type of Thread: NPT, BSP, PT
Features and Benefits of Camlocks
Easy to use and handle
Highly versatile to use for liquid, powder, and gas transport
Highly durable and abrasion-resistant
Cost-effective
Applications of Camlock Fittings
The camlock fittings are highly versatile and cost-effective in almost any industry where liquids or powders are frequently used. Common uses include manufacturing, agriculture, fuel and oil, gas, pharmaceutical, chemical, food and beverage, military applications, etc.
Types of Camlock:
Type A: Male Cam with Female Thread
Type B: Male Cam with Female Thread
Type C: Female Cam with Hose Tail
Type D: Female Cam with Hose Tail
Type E: Male Cam with Hose Tail
Type F: Male Cam with Male Thread
TYPE DC: Dust Cap for Male Cam
TYPE DP: Dust Plug for Female Cam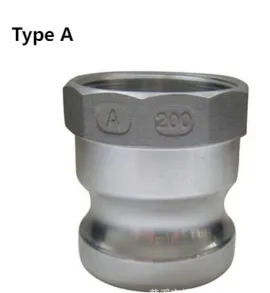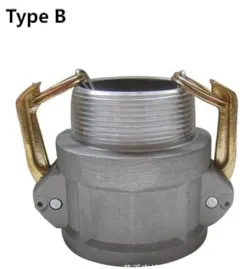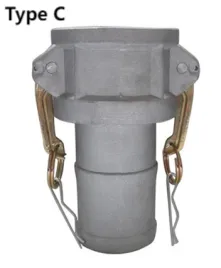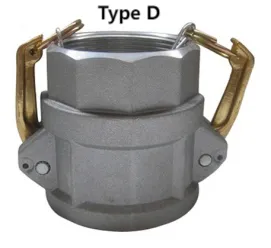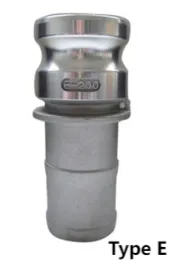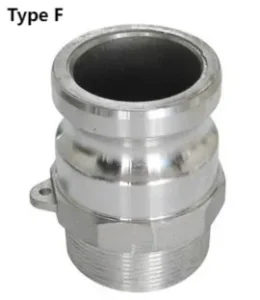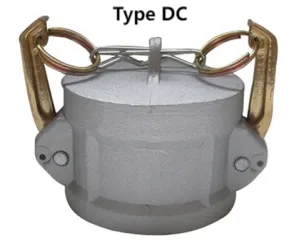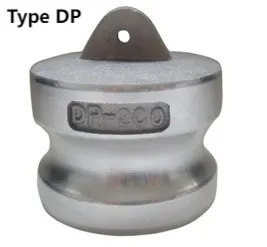 How does a camlock work?  
A male adapter and a female coupler of the coupling are required to make a connection.
Step 1 Insert the male adapter of the same size into the female coupler
Step 2 Close both arms and handles at the same time
Step 3 Disconnect the handles and take out the male adapter