Product Description
Our dredge discharge hose, containing an inner tube, reinforcement, and cover, can be used for diversified devices. For example, this hose can be the coupling between cutter suction dredgers and drain pipes, air jet pipes, or floating pipelines. The burst pressure is up to 90 bar. We can provide various sizes of this product. In addition, it can configure multiple kinds of flanges. In short, this dredge discharge hose is durable and high-quality.
Technical Data Sheet Of Discharge Dredge Hose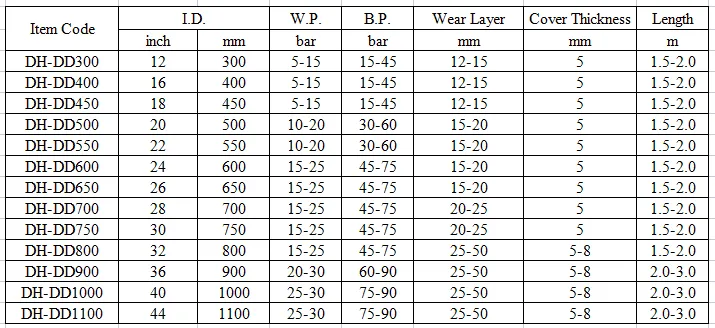 Features And Benefits
Water-proof and dust-proof
Abrasion resistance and corrosion resistance
Durable service
Multiple specifications
Anti-pressure
Convenient installation
Oil-resisting and weathering-resisting
Anti-twisting
Discharge Dredge Hose Applications
Our product, which is easy to stall, is appropriate for the discharge of seawater, silt, sand, and other dredge materials. This kind of dredge hose possesses good rigidity and external physical damage resistance.