Product Description
Our dredge suction hose is a kind of high-quality abrasion-resistant dredge hose. It contains an inner tube, reinforcement, and cover. The inner tube and cover are composed of synthetic rubber. Besides, the reinforcement layer with resistance to abrasion and corrosion is made up of steel wire. This kind of hose is appropriate for sturdy equipment of any size. In a hostile working environment, it can be more bent rather than kinking. We can provide this product according to the inside diameter, desired bending angle, and internal receivable length.
Technical Data Sheet Of Dredge Suction Hose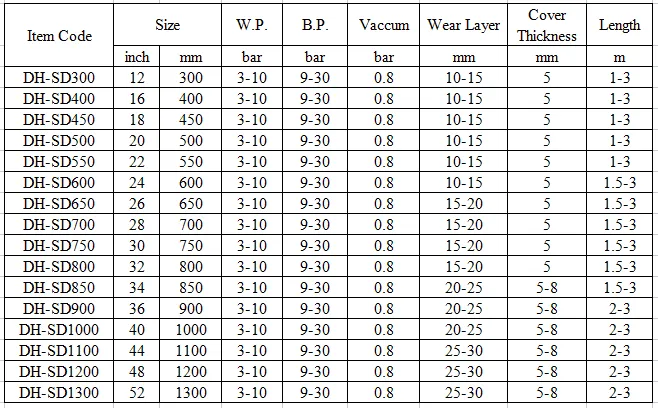 Features And Benefits
Resistant to abrasion
Anti-weathering
Small tolerance of inside and outside diameters
Incorruptible
Untwisted
Solidly connected
Water-proof and dust-proof
Dredge Suction Hose Applications
It is suitable for delivering abrasive materials, such as muck, silt, sand, silica sand, and dredge operations. Combining synthetic materials with spiral wire, this flexible and easily installed dredging suction hose is wear-resistant and hard to kink. Besides, the smooth inner tube prevents blocking and damage when abrasive materials go through the hose.