Product Description
Hydraulic Rubber Hose EN856 4SP is mainly suitable for extremely high-pressure hydraulic applications. It is a versatile and oil-resistant rubber hose made from the inner tube, reinforcement, and outer cover. It is also reinforced by high-tensile and high-strength steel wire, which makes the hose work in high-pressure conditions. The cover is formed with black and high-quality synthetic rubber, which is oil, weather, and abrasion resistant, providing a protective effect on the hose to handle complicated outdoor conditions.
Technical Data Sheet Of Rubber Hydraulic Hose EN856 4SP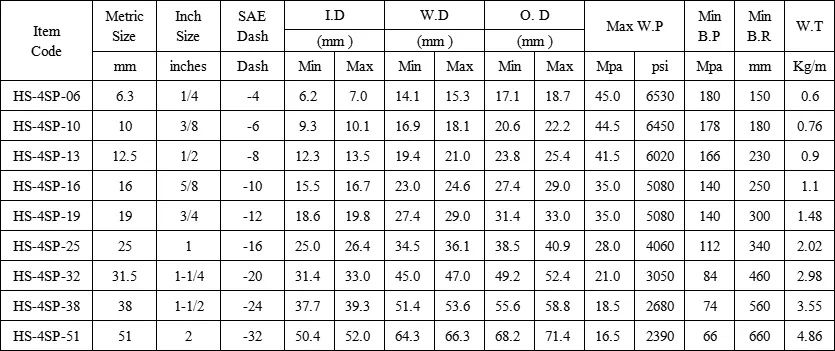 Features And Benefits
Most pliable hydraulic hose with exceptional impulse performance
Able to work in the extremely high-pressure applications
Meets EN856-4SP, DIN EN 856 4SP and GB/T10544-2013 Standard
Compatible with biodegradable hydraulic fluids
Rubber Hydraulic Hose Applications
EN 856 4SP is similar to EN856 4SH hydraulic hose in the product structure. But it can work under higher pressure at the same operating temperature. It is ideal for mining, opencast mining, and other high-pressure applications. It is reinforced by high-tensile and spiraled steel wire, which is robust and high-pressure resistant. So, it is suitable for connecting pneumatic machines and general industrial use.