Product Description
Food suction and discharge hoses include milk, potable water, and edible oil. They are designed for transfer and delivery in the food handling industry. It meets the most critical industry standards and is considered the food-grade industrial hose for safe contact with foods and drinks. It does not contain hazardous taste, odor, or toxicity. This suction and discharge hose also has a smooth, abrasion-resistant cover, inner microbe-resistant stainless steel mandrels tube, and a challenging and flexible reinforcement layer.
Technical Data Sheet of Food Suction And Discharge Hose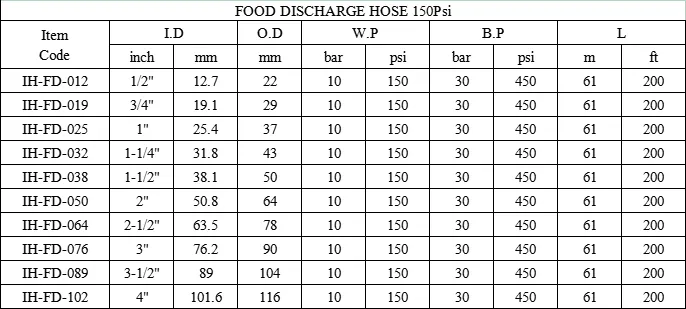 Features And Benefits
Exceptional high-temperature resistance
Excellent flexibility and ruggedness properties
Do not impart odor or taste, no toxicity contained
Specially designed for food transfer in the food processing industry
Excellent abrasion, chemical, and ozone resistance
Safe for health and reduce the risk of microbial breeding
Easier to clean and sanitize
Suction And Discharge Hose Applications
Food suction and discharge hoses are mainly designed to transfer and discharge food processing industries in which critical standards for food are required, such as edible oil, ground meat, dairy products, wind, beer, etc.