Product Description
The water discharge hose, also called a water pump discharge hose, is designed to connect to a portable pump and convey water from a location or source. These hoses typically lay flat when not in use. Discharge water hoses are ideal for water discharge applications in construction, mining, agriculture, and industrial chemicals.
Technical Data Sheet of Water Discharge Hose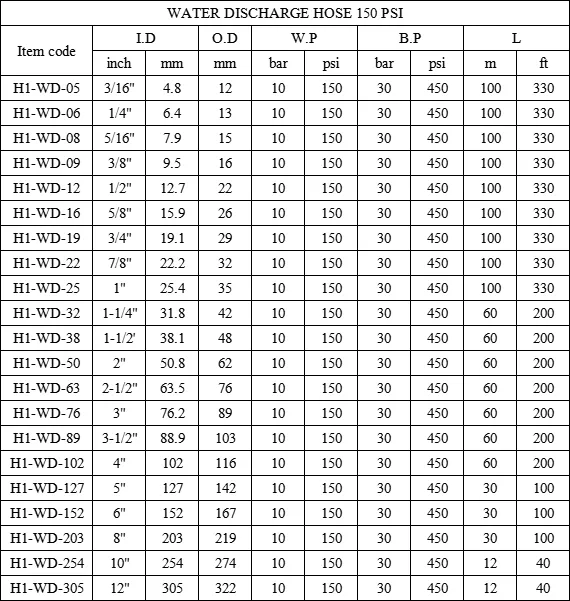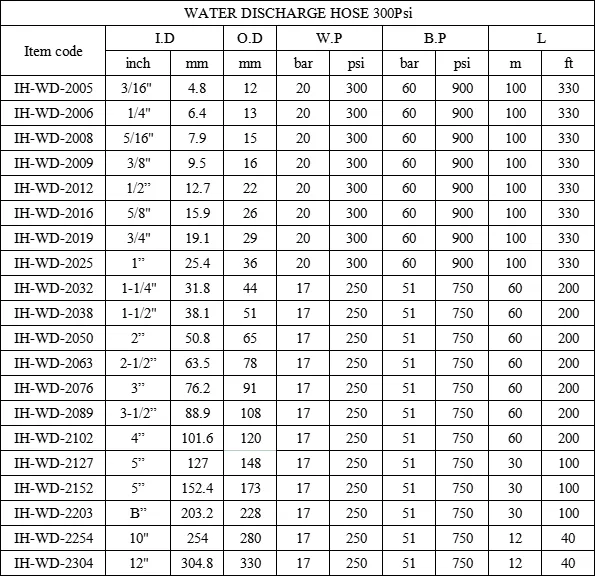 Water Discharge Hose Specification
Working Temperature: -25°C – +70°C (-13°F – +158°F )
Certification: Meets RMA/CGA performance requirement
Applicable Standard: RMA IP-7-1999
Compatible Standard: BS EN 559-2003 GB 2550-92 GB 2551-92
Packaging: Standard packaging with transparent PE film lining and outer braided textile spiral. We also supply cartons and pallets, and additional costs are required.
Features And Benefits
Excellent resistance to abrasion, weather, and ozone.
Excellent for tough, rugged working conditions
Heavier and more stable than PVC water hose
Roll up, lay flat, and easy to store
Discharge Water Hose Applications
Suitable for high-pressure water discharge applications in general industrial construction, agriculture, mines, and quarries, and also ideal for chemical applications.